Third Intermission Retreat of Heads of Police Components held in Addis Ababa
The third intermission retreat of Heads of Police components co-hosted by the UN Police Division and the Ethiopian Federal Police; and facilitated by UNOAU took place in Addis Ababa from 31 July to 2 August, 2018.
Heads of Police components from the UN Police Division (UN PD), UN Standing Police Capacity (SPC), UN Mission in South Sudan (UNMISS), UN Assistance Mission in Darfur (UNAMID), United Nations Organization Stabilization Mission in the Democratic Republic of the Congo (MONUSCO), United Nations Interim Security Force for Abyei (UNISFA), African Union Peace Support Operations Division and the African Union Mission in Somalia (AMISOM) participated in the retreat alongside representatives from UNOAU and the Ethiopian Federal Police (EFP).
In his keynote address, the UN Police Adviser, Mr. Luís Carrilho highlighted the five priorities of the UN Secretary-General's Action for Peace (A4P) namely, politics, performance, peacebuilding, people and partnerships. He noted the criticality of partnerships in peace operations and reiterated UN PD's commitment to the AU-UN partnership in peace and security.
The Ethiopian Federal Police Commissioner General Jemal Zeynu stating that 'Police are the heart and soul of the society' noted that Ethiopia's representation in police related peacekeeping efforts remains low. However, he added, given the positive contributions police make in communities particularly in decreasing vulnerabilities amongst women and children in conflict areas, Ethiopia is working towards increasing its participation in UN peace operations. He commended United Nations Police of its work.
The African Union Police Coordinator, Mr. Aderemi Adeyole indicated that concepts outlined in the Strategic Guidance Framework for International Policing have been integrated in African Union Police frameworks.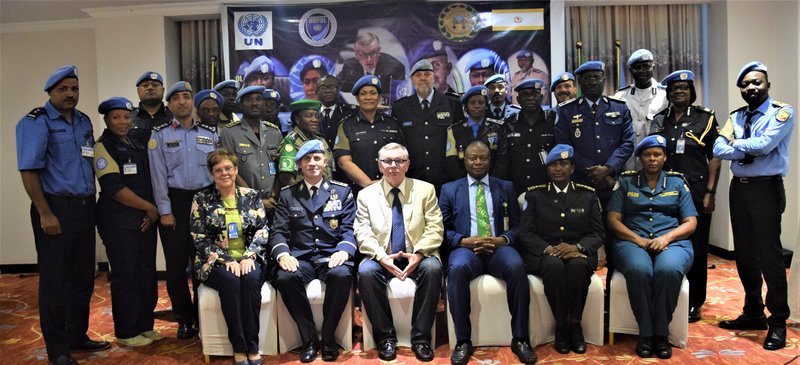 Participants discussed respective priorities, achievements, challenges and the way forward. The UN Police Department and the UN Standing Police Capacity expressed readiness to assist the African Union in enhancing capacities and identifying viable sources of funding for programmes.
At the end of the workshop, UN Assistant Secretary-General Alexandre Zouev of Office of Rule of Law and Security Institutions (OROLSI) expressed satisfaction with the outcomes of the retreat and the collaboration between UNOAU, the UN and AU Police components.
A communiqué is set to be issued on recommendations and outcomes of the retreat.